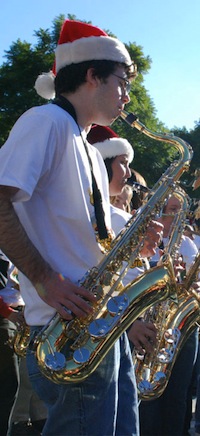 San Jose Saxophone Christmas began in 1994 when our founder, musical director, arranger, and saxophonist Ray Bernd gathered together a handful of players to perform in San Jose, California. A musical tradition was born.
Each year the San Jose event attracts some 200 saxophonists from all over California and beyond!  Our two free concerts in public spaces are enjoyed by hundreds of people, many of whom consider this annual event a highlight of the holiday season.
While most players perform on soprano, alto, tenor, and baritone saxes, the event also features some of the more unusual instruments, including soprillo, sopranino, C Melody, sarrusophone, bass, and even contrabass saxes.  Ray's arrangements include as many as 12 separate parts, allowing saxes of all sizes and shapes to show off their holiday chops.
In 2010, Ray organized the first-ever Sacramento Saxophone Christmas. We started with 33 players, and know that this tradition too will grow.
For more information about the event, contact
Ray Bernd, Founder and Director
San Jose Saxophone Christmas AND Sacramento Saxophone Christmas